Bedrock Equipment LTD
Latest News
Read all about our latest projects, products and more!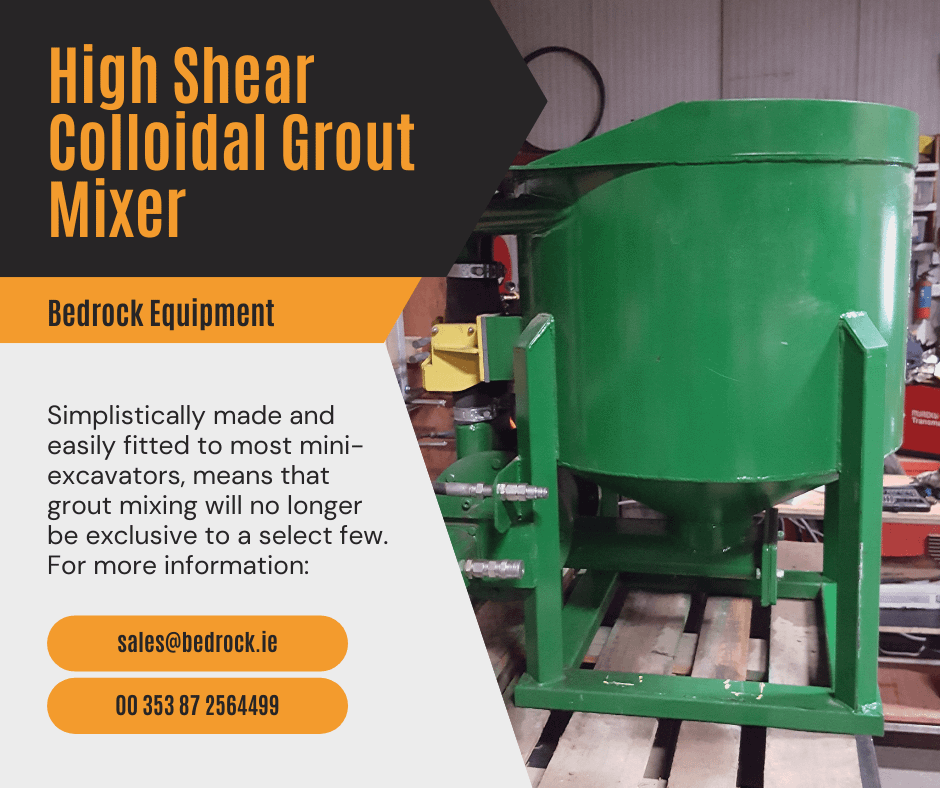 High Shear Colloidal Grout Mixer
Designed some years back, this unique high shear colloidal Grout Mixer is only now being considered for production. Whilst some field tests have yet to be completed, its unique characteristics are likely to…
Handheld Rock Drills
Handheld Rock Drills are Back, but without the Backache. They are safe to operate when fitted to the Superlight BEDROCK Drill Masts. Include all variations of Holman, Macdonald & Chicago Pneumatic Drills
4m Drill Mast
One of our basic 4M Drill masts being prepared for a client here today (Safety Cage yet to be fitted). This is a straightforward 4M Mast with 3.2M of travel. Hydraulic Clamp 25-70 at the bottom and a 3 lever Manual Control unit….
BDA and ROM
Two acronyms for SAFETY. Our 4 in 1 unit encapsulates all: eStop, Override Switch, Beacon and Gate Switch.
Manual Control Units
We manufacture Hydraulic Spool Valve Block Housings and frames. They come in all sizes, where one, two, three and four lever are the most popular….
Our latest drill mast
Here we have our latest Drill Mast. This unit was built to order and we have several more in the production line. It is 4M long with capacity to handle 3M drill rods (travel circa 3.2M)…
Hydraulic Rod Puller
This is a unique Hydraulic Rod Puller. Worthless if you don't need one, but invaluable to those in the Specialist Geotechnical Industry…
Bedrock Drill Rig
When this new drilling unit is complete (fitted with a safety cage and some extra articulation), it might well be the smallest self-propelled drilling rig…
Brand Colours
BEDROCK is showing some Green Shoots this week. Customers who want equipment painted in their Company Colours are pleased to know…
Foundation Stabilization
Here we have one of our older masts executing a foundation stabilisation project at a domestic property in Cork City.
Bedrock Drill Masts
The Geotechnical Industry is once again powering ahead here in Ireland. With renewed confidence in the market, specialist contractors like…
Rebranding
If you've been around here a while, you might have noticed that Bedrock Equipment has been going through some changes the past few weeks.
Hydraulic Valve Chest Unit
Today we are putting the final touches to a Hydraulic Valve Chest Unit for Noel Hilliard of Hilliard Ground Engineering.
New Mast
Late on a Friday evening BEDROCK is having a new mast plumbed for a project which commences on Monday morning.
Robotic Shotcrete Nozzle
Shotcrete is the name given to the process of applying concrete by pumping it and applying large volumes of air (under pressure) at the end of the hose.